FOXBusiness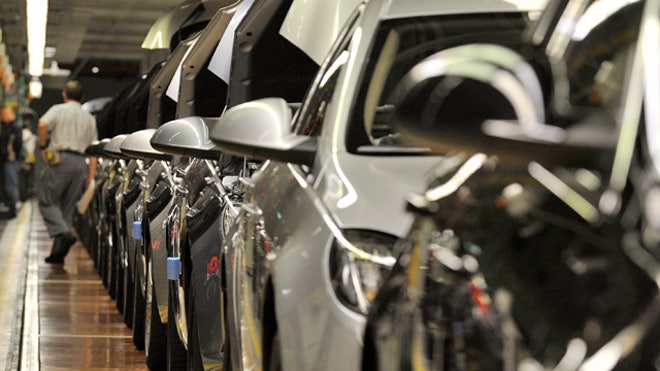 General Motors Assembly Line
(Reuters)
The auto industry is expected to get a boost from Black Friday and report a 3.6% increase in November sales, according to research provider Kelley Blue Book.
Pent-up consumer demand and low interest rates have helped lift U.S. sales of new vehicles. Last month, results continued to come in strong as the Big Three automakers each reported double-digit gains.
Kelley Blue Book senior analyst Alec Gutierrez said Black Friday sales events, such as General Motors' (
GM
) supplier pricing promotion, will fuel demand during the final weekend of the month.
"Sales in November tend to be heavily skewed toward the end of the month because of Black Friday sales events … so sales could surpass current expectations if the available deals are especially enticing," he added.
Gutierrez also noted that November sales face a tough comparison to an especially strong month in 2012, when drivers replaced vehicles or made delayed purchases after Superstorm Sandy.
Total November sales are projected to hit 1,185,000 units, a 1.7% drop from the prior month. But Kelley Blue Book believes the seasonally adjusted annual rate will rise to 15.6 million versus 15.2 million in October. The SAAR in November 2012 was 15.3 million.
According to the report, GM will easily outpace its rivals with 12.1% sales growth, thanks to employee pricing on a variety of vehicles. Chrysler Group is second with a 6.9% gain, followed by Ford (
F
) at 6.2%.
Toyota (
TM
) sales are expected to climb 5.8% for the best showing among international automakers.
Kelley Blue Book also noted that fears of a lag following the partial government shutdown in October were largely overblown, given the expectation that sales are on pace to post another year-over-year gain.
Last week, Edmunds.com predicted an industry-wide gain of 4.7% for November sales and an annualized rate of 15.7 million vehicles. Edmunds has Chrysler in line to post the biggest gain of 10%.
GM shares climbed 13 cents to $37.68 early Tuesday afternoon. Ford fell a penny to $16.93. Honda slipped 1.2% to $42.08, while Toyota was down 34 cents at $125.26.