Order at Light Tool Supply
http://www.lighttoolsupply.com/Mitutoyo
Mitutoyo Announces New SV-C3200/4500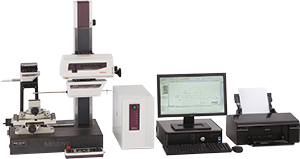 We are pleased to announce the addition of the new

SV-C3200/4500

Formtracer to our line of Form Measurement Instruments. These models replace the already successful SV-C3100/4100 units. Numerous innovative features combined with high accuracy and a competitive price makes this instrument the new leader in its class.
The main features of the SV-C3200/4500 are as follows:
Use of ARC encoder technology that is derived from the CV-1000 Series, the new models are able to expand the Z1-axis measuring range and maintain its high accuracy and increase resolution specifications.

New quick change arm design that is now held by magnet also allows for a 10mm increase in Z1-axis measuring range. This will also help prevent interference with work piece setup, can reduce expensive stylus damage and lead time for exchanging arm.

Added features to the NEW SV-C4500 models are the Adjustable Measuring Force thru the software and the Bidirectional Measurement stylus that allows measurement of pitch circle diameters without changing arm orientation.

The H4 configuration machines will be the common stock systems for Mitutoyo America Corporation. We will keep a supply of other models in stock and/or the production pipeline in limited quantites.

If you would like further information or assistance regarding the

SV-C3200/4500

, please contact your Mitutoyo sales representative or the Mitutoyo sales office in your area.
Remarks:
See table below for specifications and Bulletin 2070 for additional product details.
PRODUCT NAME:
SV-C3200S/H/W & SV-C4500S/H/W
SV-C3200S4
525-491A-1

SV-C3200H4
525-492A-1

SV-C3200W4
525-493A-1

SV-C3200S8
525-496A-1

SV-C3200H8
525-497A-1

SV-C3200W8
525-498A-1

SV-C4500S4
525-451A-1

SV-C4500H4
525-452A-1

SV-C4500W4
525-453A-1

SV-C-4500S8
525-456A-1

SV-C-4500H8
525-457A-1

SV-C4500W8
525-458A-1
SPECIFICATION COMPARISON WITH SV-C3100/4100
Roughness detector measuring range

800µm/80µm/8µm (32000µin/3200µin/320µin)

800µm/80µm/8µm (32000µin/3200µin/320µin)

Resolution (Roughness unit)

0.01µm(800µm), 0.001µm(80µm), 0.0001µm(8µm)

0.01µm(800µm), 0.001µm(80µm), 0.0001µm(8µm)

Detecting method (Roughness unit)

Measurement range (Z1-axis)
(detector unit)

60mm (±30mm) in horizontal position

50mm (±25mm) in horizontal position

Resolution (X-axis)
CV-3200 (Z1-axis) detector
CV-4500 (Z1-axis) detector
(Z2-axis) column

0.05µm (1.97µin)
0.04µm (1.57µin)
0.02µm (0.78µin)
1µm (39.4µin)

0.05µm (1.97µin)
0.2µm (7.87µin)
0.05µm (1.97µin) CV-4100
1µm (39.4µin)

0.0.2~5mm/s (0.00078-0.2inch/s)

0.0.2~5mm/s (0.00078-0.2inch/s)

Measuring force (CV-3200)
(CV-4500)

30mN
10, 20, 30, 40, 50 mN (in FTPK V5.3)

Accuracy (X-axis) 4" Drive
(X-axis) 8" Drive
CV-3200 (Z1-axis) detector unit
CV-4500 (Z1-axis) detector unit

±(0.8+0.01L)µm
±(0.8+0.02L)µm
±(1.6+|2H|/100)µm
±(0.8+|2H|/100)µm

±(1+0.01L)µm (CV-4100: ±(0.8+0.01L)µm
±(1+0.02L)µm (CV-4100: ±(0.8+0.02L)µm
±(2+|4H|/100)µm
±(0.8+|0.5H|/25)µm CV-4100

Both pulling and pushing directions

Both pulling and pushing directions

Scale unit (X-axis)
(Z1-axis) detector unit
(Z2-axis) column

STVC-10Z
RT detector
ABS scale

STVC-10Z
RT detector (CV-4100 Laser Holoscale)
ABS scale

Drive speed (X-axis)
(Z2-axis) column

0-80mm/s and manual operation
0-30mm/s and manual operation

0-80mm/s and manual operation
0-20mm/s and manual operation

Operating temperature range

20

~

80%RH (with no condensation)

20

~

80%RH (with no condensation)

No. of controller expansion slots

100~120V, 200~240V ±10%, AC50/60Hz

100~120V, 200~240V ±10%, AC50/60Hz